Welcome to the
Walkabout Wrexham & District Website
WALKABOUT WREXHAM AND CORONAVIRUS

The Welsh Government has now relaxed its Covid restrictions so there is no longer any limit on the number of people who can meet outdoors.
We therefore invite you to join us on our walks.
But, please read our Guidance on Covid-safe walks before you come along and check in the 'Walks' section of our website to confirm whether each walk has begun again.
IMPORTANT - If you develop Covid symptoms in the 7 days following any of our walks, please let us know immediately so we can inform other walkers and NHS contact tracing. Please email us on
walkaboutwrexham@outlook.com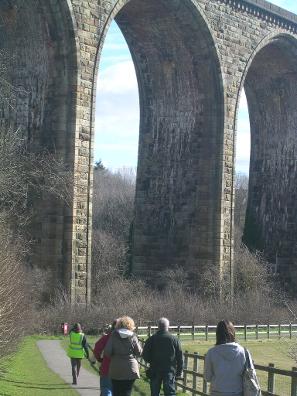 Walkabout Wrexham was set up to encourage people living and working in Wrexham or visiting the area to get outside and enjoy one of the many free walks that take place in and around Wrexham County Borough.
The walks were first started in 2001 by Walkabout Wrexham, a Groundwork Wrexham and Flintshire project, and were funded by the Big Lottery from April 2007 until March 2010. From April 2010, the newly created volunteer walking group called 'Walkabout Wrexham & District' has been carrying on the free walks through funding, fundraising and donations.

All the walks are free and led by trained volunteers involved in the Walkabout Wrexham & District group. We would love you to join us!

There are currently several weekly walks as well as other extra monthly walks in the Wrexham area with some walks suitable for wheelchairs and pushchairs. All the information is found on this website under the 'Walks' tab above and if you have any queries about the walks, please visit the FAQ page or contact us on -
walkaboutwrexham@outlook.com.